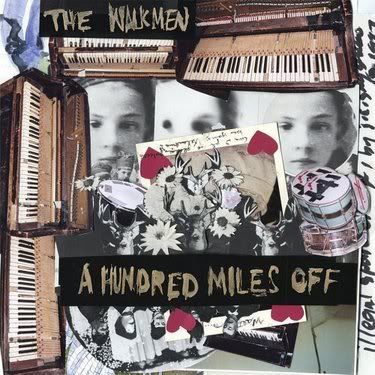 If I've said it before I'll say it again: modern music could use a whole lot more mariachi horns.  Who would have thought an indie rock garage band from New York City would completely relearn the art of songwriting and spend a year studying such oddball albums as Bob Dylan and The Band's Basement Tapes and The Kinks' Muswell Hillbillies for inspiration.  By immersing themselves in music that was innovative when it came out by sounding so ancient and fresh at the same time, The Walkmen have managed to replicate the same feeling on their new album, A Hundred Miles Off.
The album opens with the track "Louisiana," which starts off sounding like a Basement Tapes outtake, with its Caribbean beat and boozy drawl, but as it gets going it manages to reinvent itself as something entirely new.  Singer Hamilton Leithauser casually offers some overly optimistic, intoxicated lyrics that recall the excitement of starting a new relationship.  Just before the chorus kicks in he recognizes his blind idealism and belts the line "I've got my hands full."  Just as he finishes, an instrumental chorus begins with mariachi trumpets and barroom piano taking over sounding like an alcohol-soaked fiesta.  The song is surprisingly moving in its progression.  Part of the time it feels like a dreamy love song, while drifting into a loneliness and doubt just before giving up to go get drunk at a party.  It is a bold opening statement, in its adventurous scope and embrace of music of the past, especially within the realm of indie rock.
Of course none of this would ever work if The Walkmen were simply performing an exercise in roots music.  They manage to maintain their garage rock drumming and shrill, hazy guitars, while the keyboards of their past have been replaced with horror movie organs and honky tonk piano.  The overall effect, like all good music, has elements of the past, present, and future combined.
Many of the songs are more like mood pieces with an emphasis on texture rather than songs with a regular verse-chorus-verse format.  This makes the album feel more like a journey than a collection of songs.  The final song, "Another One Goes By," sums up the entire album by its declaration of wanting to pay attention, but still missing out along the way.  It is a hopeful, hopeless, and brutally real sentiment in a world full of beauty and sadness.  The narrator of the song seems to accept his fate, while letting the foggy '60s soul instrumentation of the song surround him in his isolated contentment. Leithauser typically sings from the back of his throat in his highest octave, which creates a Dylanesque drunken, gut-wrenching squeal.  He could easily sing in a more conventional lower range, as he does on the tropical lounge song "Brandy Alexander," but usually he recognizes the depth of emotion he can reach by howling at the top of his lungs.  The overall effect is like the end of a long night of drinking when everything becomes painfully sad, but totally worth it.
It is clear from A Hundred Miles Off that The Walkmen have been trying to listen and learn what they can from those who came before, while still existing in today's world.  The album has a rebellious feel to it, much like the late sixties/early seventies periods of Bob Dylan, The Band, and The Kinks.  It's a reaction against the conventions of modern music, but it's not in complete defiance of it.  The genre of indie rock was originally a broad term meant to imply that it included music that was made on the artist's terms, instead of those of the music business machine.  However, indie rock, like all invented genres, has often managed to become a cliché with a particular sound.  Just as Johnny Cash challenged country music with his use of mariachi horns on "Ring Of Fire," The Walkmen have taken a risk of being totally misunderstood by their audience.  It is an admirable move in the world of indie rock where new ideas can potentially be labeled as gimmicky.  With A Hundred Miles Off, The Walkmen seem to have created something out of left field, while challenging conventions and embracing the unknown, while maintaining their indie rock roots.  By doing so they have breathed fresh life into the genre, just when it needs to be reminded of its roots. 
VIDEO: The Walkmen – "Louisiana"