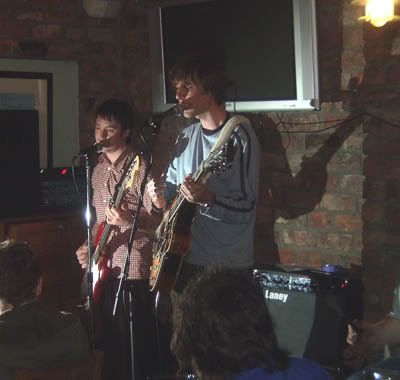 The Modern Lovers – Don't Let Our Youth Go To Waste
(from Precise Modern Lovers Order)
Galaxie 500 – Don't Let Our Youth Go To Waste
(from Today)
The Tall Boy – 45s and Books
(from Go Forth)
Is there anyone more earnest than Jonathan Richman? The nakedness of his voice, the humanity of his plea, his bleating promise to give you "memories to rival Berlin in the '30s." And this song, "Don't Let Our Youth Go To Waste" - the title alone, even – is what it's all about for Jonathan: plaintive romantic yearnings for poetic encounters, followed by a simple admission that "I really understand your dating bar ways." It's all so heartbreakingly tender and truthful. And it's not just that I appreciate the sentiment of the song, which I do, but it's that I can't get my imagined vision of this performance out of my head. I imagine Jonathan, after spending the better part of an hour fighting against the instincts of his band to play louder while struggling to maintain the interest of a bewildered and chatty audience, stepping up to the microphone alone and laying himself bare with this number. It's almost painful.
Whereas with Galaxie 500′s cover, the message of the song becomes a much more closely guarded secret. Dean Wareham's mousy voice is shielded by a dense fog of droning guitars and primal war drumming, and with the defenses of introversion raised there's an unsettling fear that beneath all the noisy bravado the song has become little more than a hesitant Carpe Diem in their hands. Chilling, for what it's worth, but the romance feels too neurotic to be simply enjoyed.
The Tall Boy get more to the supposed point on the song "45s and Books." "You stalk the library for fun, that's okay a while in once," sings former Boyracer Matty Green, with an awkward turn of phrase, "But don't be scared of the young, while you are one." It's so easy to miss out on life, they gesture, when yours is populated more with fictional characters and the artifacts of popular culture than with real friends and memories. It breeds a loneliness so cold even the guitars shiver and the vocal reverb takes on the downy qualities of fresh snowfall.
I posted a track by the Tall Boy last week without much reaction, so I feel I should stress how beautiful and hushed this new EP is, Go Forth. Although I'm posting them here again with the Modern Lovers and Galaxie 500 for thematic purposes, stylistically these Glaswegians fall somewhere between the Shins and the Clientele. And as much as this song gently coaxes listeners to do otherwise, a song this simple and moving is a good reminder of why I like to spend so much time with my 45s and my books, or more appropriately, with my mp3s and my blogs.
-Posted by Todd