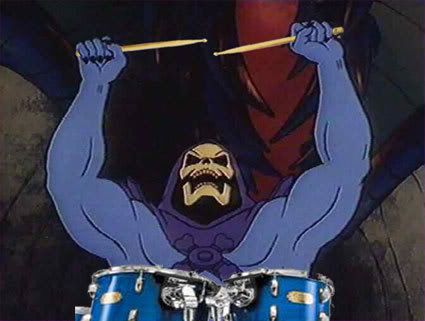 Do you hate Valentine's day? Are you single and still nauseated from co-workers receiving and giving flowers and candies of various ilk to and from their "sweethearts"? Were you trying to get a stinkin' meal last night only to find that you were the only one to bring a book as your date for the night? Do you have uncontrollable tendencies toward the decimation and destruction of happiness? Any plans to someday bring the universe and all its inhabitants to its knees? A penchant for purple hoodies?
Then St. Skeletor's Day is the holiday for you. And it's today!
From the St. Skeletor's Day homepage:
St Skeletor's Day is a non-commercial alternative to the corporate whorefest that is St Valentine's Day. Each year, on February 15th, the festival of St. Skeletor occurs worldwide. The purposes are:-

* a) The destruction of 'lurrve'
* 2) The destruction of saucy greetings cards
* d) The destruction of people with boyfriends/girlfriends

St Valentine of course is the patron saint of making single people feel like crap — each year, the celebration drifts further away from the celebration of love, and further towards the celebration of fluffy handcuffs, expensive flowers, thoughtless greetings cards and other tat shaped into heart shaped packaging, putting pressure on people in relationships to partake of their hard earned cash and actually buy this crap.
This mix is for all of you who are apt to send the girl in the next cubicle's roses through the paper shredder today.
The Mountain Goats – "No Children"
Audio clip: Adobe Flash Player (version 9 or above) is required to play this audio clip. Download the latest version here. You also need to have JavaScript enabled in your browser.
from Tallahassee

The Pink Mountaintops – "Single Life"
Audio clip: Adobe Flash Player (version 9 or above) is required to play this audio clip. Download the latest version here. You also need to have JavaScript enabled in your browser.
from the single Single Life
Franklin Bruno – "I Blame You"
Audio clip: Adobe Flash Player (version 9 or above) is required to play this audio clip. Download the latest version here. You also need to have JavaScript enabled in your browser.
from A Cat May Look at a Queen
The Hadituptoheres – "In the Beginning"
Audio clip: Adobe Flash Player (version 9 or above) is required to play this audio clip. Download the latest version here. You also need to have JavaScript enabled in your browser.
from "…are bringing the hammer down"
Tom Waits – "The Part You Throw Away"
Audio clip: Adobe Flash Player (version 9 or above) is required to play this audio clip. Download the latest version here. You also need to have JavaScript enabled in your browser.
from Blood Money
Belle and Sebastian – "There's Too Much Love"
Audio clip: Adobe Flash Player (version 9 or above) is required to play this audio clip. Download the latest version here. You also need to have JavaScript enabled in your browser.
from Fold Your Hands Child, You Walk Like a Peasant
Robyn Hitchcock – "Executioner"
Audio clip: Adobe Flash Player (version 9 or above) is required to play this audio clip. Download the latest version here. You also need to have JavaScript enabled in your browser.
from Eye
You know, Freddie Mercury does bare a striking resemblance to Man-At-Arms.
–Posted by Scotter
By the way, I put this short mix of songs together quickly, and as Lurrve destroying as they are, I would like to have a few songs by female artists on this list. Any suggestions?