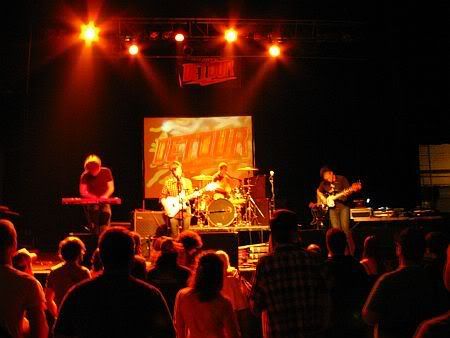 Javelins
What a great night! The first eve of three eves of the Rock City Fest in Detroit City, and I, Scotter, and the Whalebomb, who joined me to cover Blowout, will be reporting on stuff that people report on when they go to a music fest. Whalebomb is getting married soon, so the Rock City Festival is his last major music fest as a bachelor. Things will never be the same for him at future music fests. For example, he'll probably have trouble getting from venue to venue once that big diamond ring is placed upon his petite finger–it'll weigh him down just enough to miss a few seconds of an act, whereas before he might have seen and enjoyed those three extra seconds of the show. Actually, that's probably the only thing that will actually change. Still, it'll never be the same again!
Whalebomb: There's just something about looking at the menu of a festival and thinking to yourself, "Crap, it's the same stuff I've been seeing for the past couple festivals," but then getting there and going, "Oh, no, there's tons of new stuff I thought I saw, but never have." The problem with festivals is that you look at the names of the bands and think you've seen them, but you've really only seen the names. So yeah, the menu is the same, just order something different.

The thing I liked about Rock City Fest last night is that, like that Blowout Pre-Party, everything is in one place. So for people like me who have ADD, it's nice to be able just to keep walking around and catching a bit of everyone. In fact, I know Blowout weekend is an early Spring tradition, but I think Metro Times and Detour should get together to talk about swapping dates. It's warmer in June to walk around the streets of Hamtramck.
Scotter: Got to the Majestic around 8:00 because I heard that High Life would be $1 for a couple of hours. Got one (the plastic cup it came in was considerably smaller than standard beer receptacles) and stood at the bar at a nearly empty Majestic Theatre with my gf, trying to figure out how to use the new camera I just bought today for the Rawk City Fest. It was kind of boring for while, but getting there early paid off since there were some freebies to be had (suckas!). So I made my way up to the first act of the entire fest, Breezee One.
Um, wow. An interesting choice for an opener. Breezee is a four piece, composed of female rapper Breezee One, drummer Die Nasty (I'm sure I speld his name rong), back-up dancer Watermelon, and the speakers pumping out pre-recorded loops, dubs, beats, etc. Breezee mustered lots of energy and octane, calling out to the small crowd to assemble up front and shake it. She had lots to say to the ladies, and I learned quite a bit from this particular teaching moment. Most of all, I learned that for the ladies, TLC = LTC. What's LTC? Ask your girlfriend.
Most profoundly, Breezee One showed herself to be a feminist hero and religious thinker, of sorts, captured in the following:
Breezee, in a complaint to audience and Almighty: "Wouldn't it be nice if you could say 'Hey God, instead of getting me pregnant with a baby, how about getting me pregnant with a pound of weed, or a case of High Life or something.'"
My girlfriend, unconsciously responding in whispered voice: "You're my hero."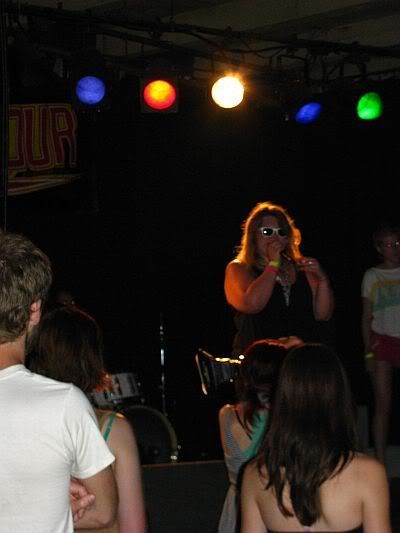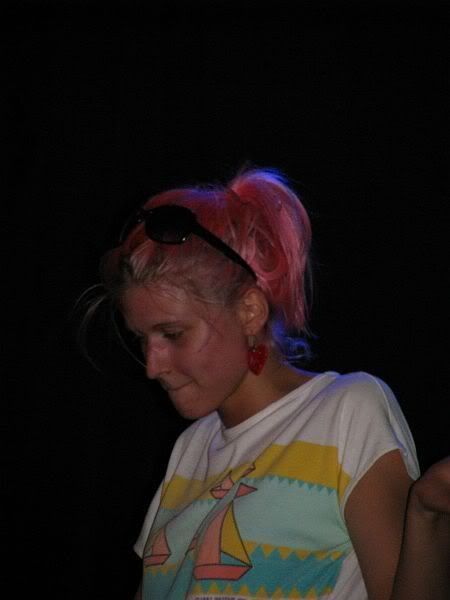 Watermelon, back-up dancing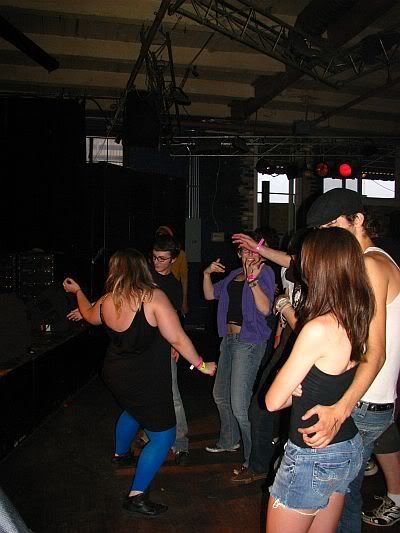 Breezee One, up-back dancing
Whalebomb: I got to the Majestic complex just in time to see Javelins. Anyone who can sing incredible melodies while playing incredible beats on a drum kit impresses me. I don't understand how that works. I cannot pat my head and rub my belly at the same time.
Scotter: My first time hearing Javelins and how impressive they were. They kind of remind me of 90s Canadian rock band The Superfriendz, who wrote a few great records with Sloan's Murderecords label. I'm looking forward to hearing Javelins' new LP, Heavy Meadows, coming out in a month or so. Drummer/singer Matt and Bassist Julian are also in Thunderbirds Are Now! (I'm sure 98% of you already knew that) and in some ways, Javelins plays a very similar kind of music, only more laid back. I'm not sure what the second-to-last song is called, but the keyboard solo that ends it was awesome, and the trumpet was a nice tough. I've been thinking lately that more rock bands should institute trumpets in songs.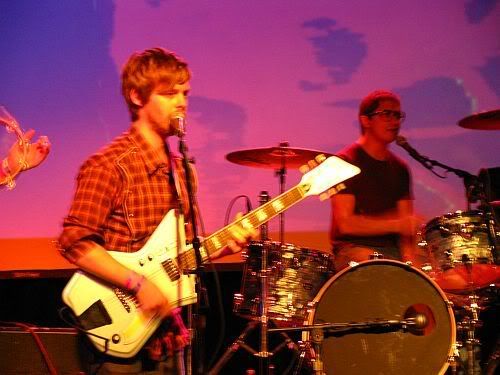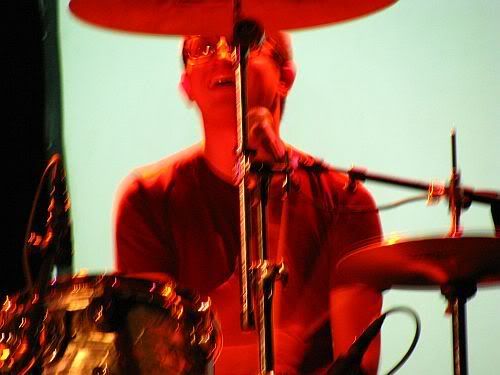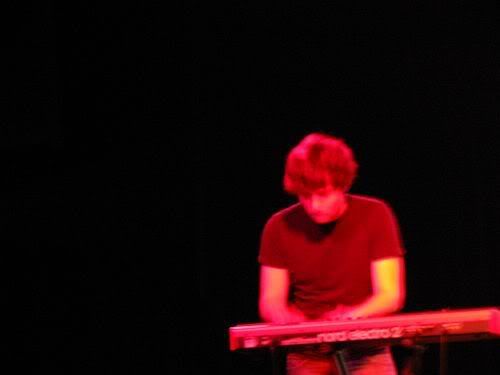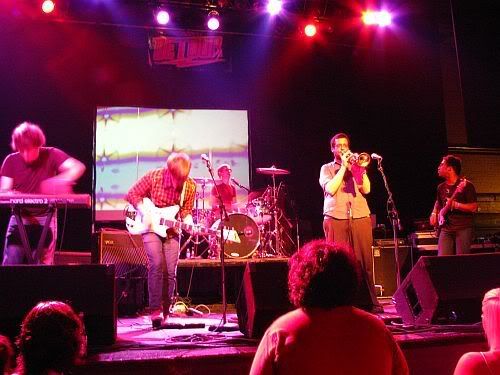 Whalebomb: Didn't stay at Javelins too long because I had to go see Deastro. He had a full band. Amazing. I know all these blogs rave about Deastro, but he deserves all those raves and then some. If you haven't seen him yet, shame on you.
Scotter: I stayed for all of Javelins and caught the very end of Deastro's set. He's the Phil Spector of Detroit right now, and as I approached the stage I felt like I was walking into a brick wall of sound. I don't know how he gets all of those electronic sounds to make sense–there are just so many sounds coming at the audience at the same time. If Thomas Edison, the father of recorded sound and electric power, were to have walked into the Magic Stick during that Deastro show, he probably would have been astounding, and said: "Holy shit, what am I doing here at a Deastro show in Detroit? I've been dead for over 77 years."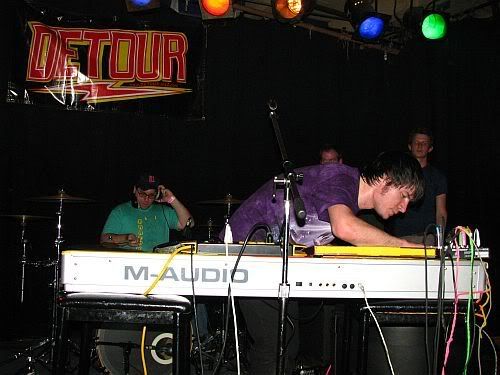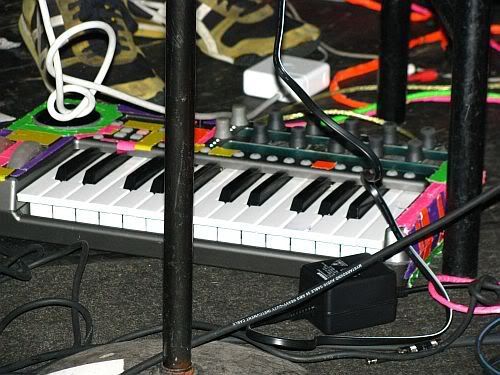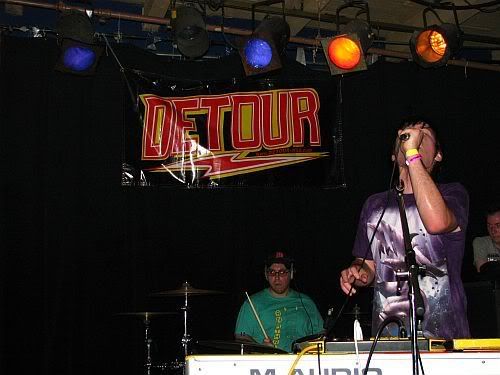 Whalebomb: I then headed to Prussia. The band, not the area. Is it an area? Is that like Pangaea but only for the Persia and Russia area? This is one of those bands I thought I saw before but realized I never did. All I'll say is this, for those of you who bitch and complain and moan and groan about not enough "rock" being played at Rock City Fest, I hope you stayed home because you missed an awesome night of ROCK. So in your face. Prussia is rock 'n roll in the oldest sense of the word. If you want to argue that with me, go ahead, but be prepared to lose.
Scotter: Although I've lauded Prussia elsewhere and am a big fan, I was impressed by how much they've improved since I last saw them live. Their recordings don't account for the live sound they've developed. With two drummers (one banging away on a timpani) thundering the beats, Prussia sustains a classic 60′s sound that rushes the blood to your head. If Tommy James and the Shondells had John Bonham as a drummer, they would sound like Prussia.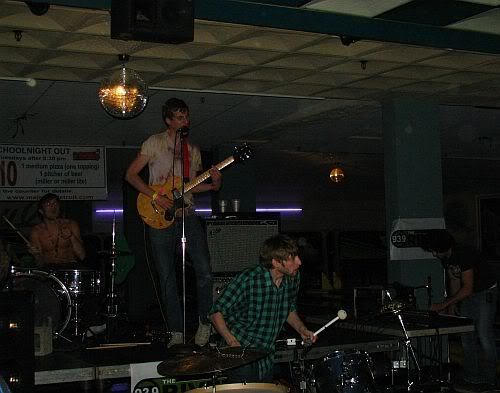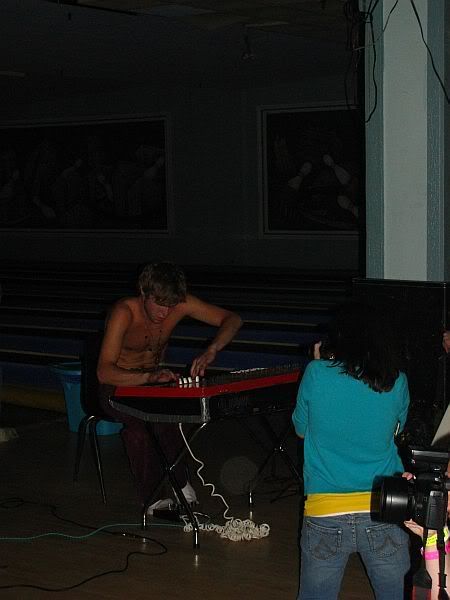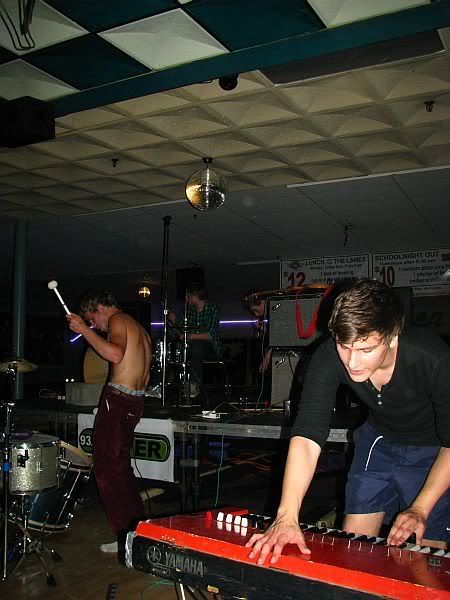 Whalebomb: I missed the Hard Lessons to see some new stuff. But again, more "rock" for those of you complaining about having none. So after Prussia was Juiceboxxx. Holy Shit. He's like the white version of Gray Kid. Amazing. He was having so much fun. He kept telling us he was exhausted, but you'd never know. I want that guy to wake me up in the morning. Not like we just slept together or anything. I'd like him to be my alarm clock. I want him to come in my bedroom at 7:00 a.m. and just start singing, performing, and bouncing all over the place. It would put me in such a great mood to start my day.
Scotter: I saw Juiceboxxx at last year's Detour Launch Party, where he played to a crowd of about 20 people, but apparently word got around that he's freakin' awesome and fun, so the Stick was a little more capacity'd for his Rock City appearance.
As someone who has decided to take pictures to help capture this event, the Juiceboxxx performance is when I first noticed the amount of other photographers (mostly professionals) that were working the event. Which is one of the reasons I loved Juiceboxxx's performance–it made these photographers' jobs very difficult with all of his movement on and off the stage (and on top of speakers and carried around by fans). The concert viewing experience is not too different from watching TV. You're basically looking at performers passively and they're playing in your direction. There's an invisible wall that separates the performer from the audience, a wall that is difficult to break down. But since Juiceboxxx leaves the confines of the stage and performs mostly in the crowd, it makes the audience part of the performance, kind of like a dance circle, changing the dynamic of the experience.
I can't wait to see these "professional" photos of the Juiceboxxx show. I got some interesting ones, below. Check out the one where it looks like Juiceboxxx is punching that dude in the face. The one below it shows the pop-erazzi encircling him for a good shot. I think I may just photograph all of the photographers tonight instead of the bands. Photographers Exposed! I guess since I'm not really good at taking photos, I should call myself an imagist instead of a photographer.
To cut my tangent short: Juiceboxxx is effing awesome.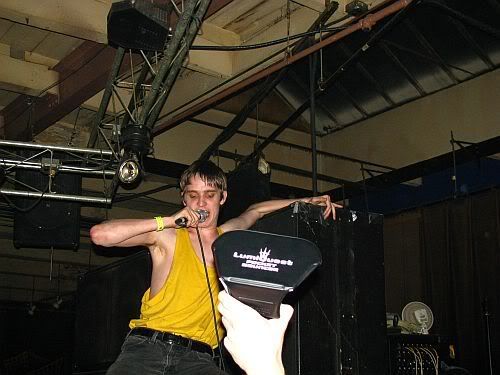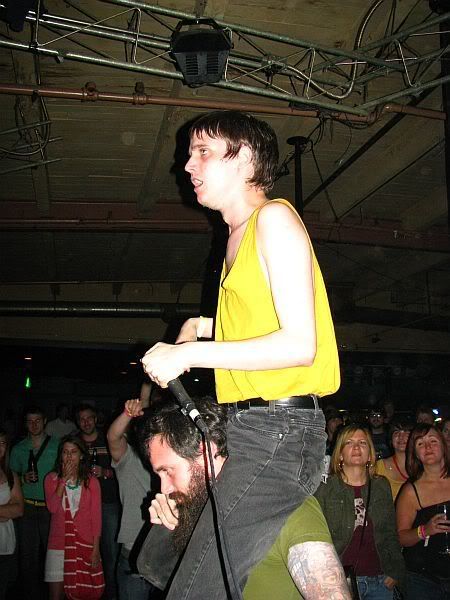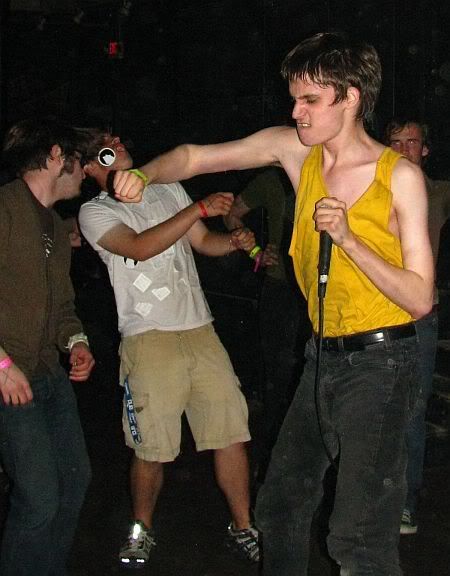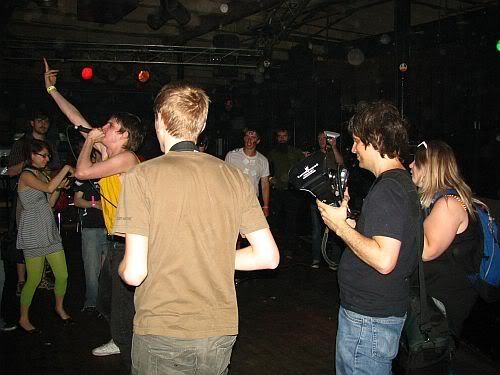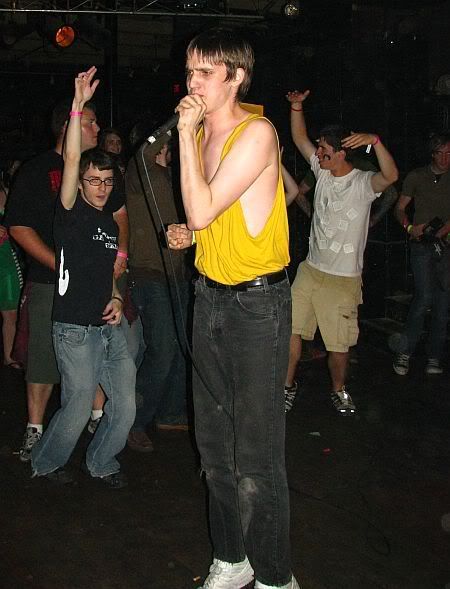 Scotter: Thunderbirds Are Now! haven't played many shows since I moved back to Michigan last year, so I hadn't seen TAN! until Rock City. They put on such a great, high-energy show that I wished I wasn't as intoxicated at that point of the night. Lots of sweat, lots of movement, lots of awesome.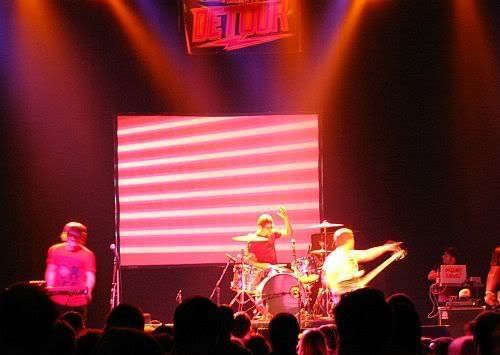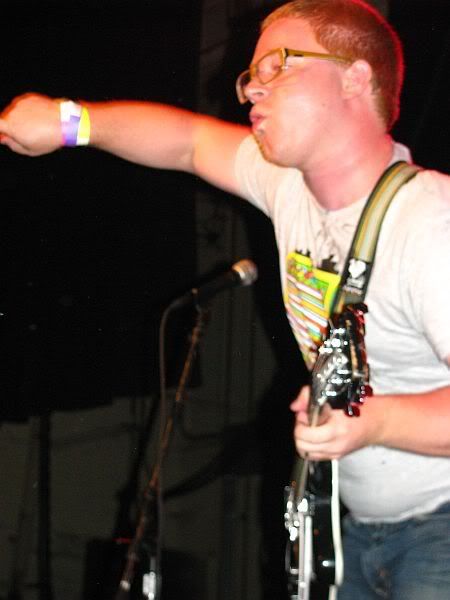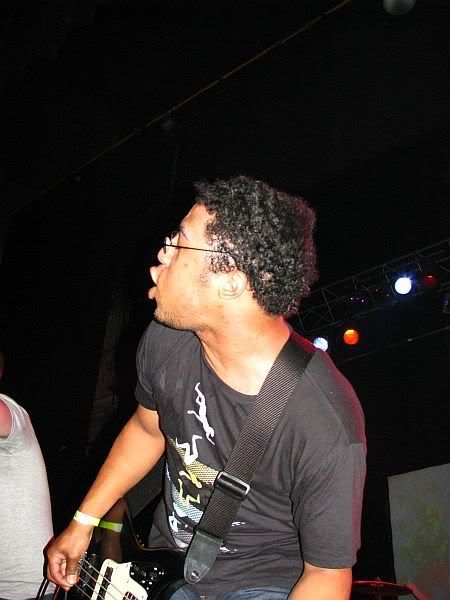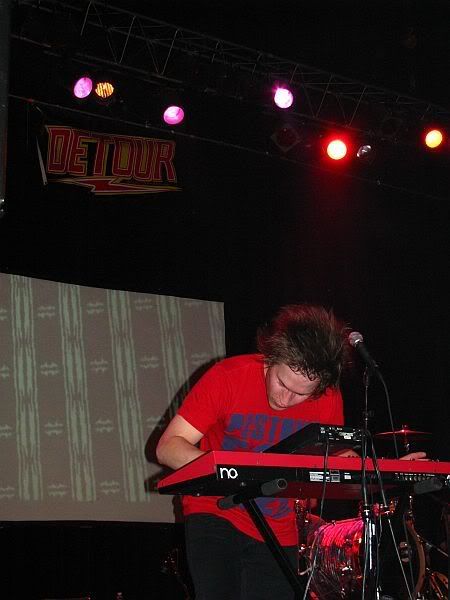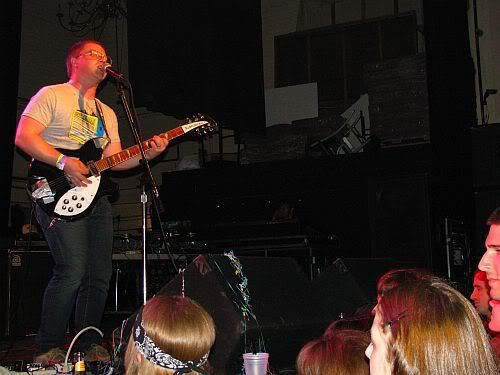 Whalebomb: I roamed between Benny Stoofy and Thunderbirds Are Now! waiting for Champions of Breakfast. Like The Hard Lessons, I've seen TAN! countless of times and COB are still an entertaining act that I have to catch each time I'm out. If you haven't seen them yet, I can't describe them to you. And I'd be amazed if anyone could.
Scotter: I would now like to take the time to describe Champions of Breakfast.
If this is Indie rock: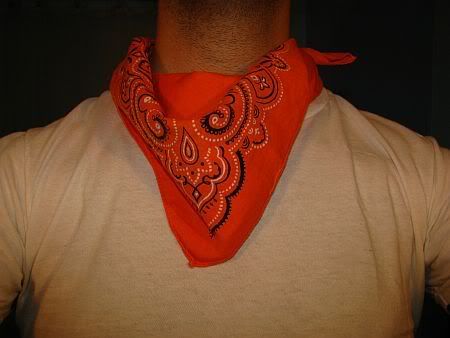 Please notice actual handkerchief wrapped around the neck and tied to make a bandana.
Then this is Champions of Breakfast: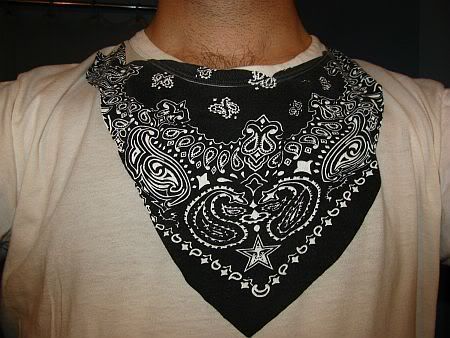 Note that bandana is actually printed onto the t-shirt.
Champions of Breakfast killed it, as per usual, and even gave a shout out to this very blog, our first ever. Thanks fellas. Their debut album, Pleasure Mountain, is out now, and will receive an "interesting" review from this website in the near future.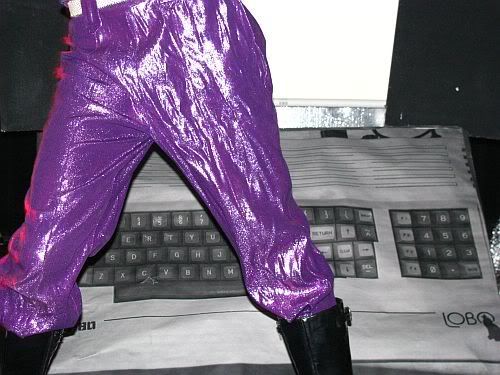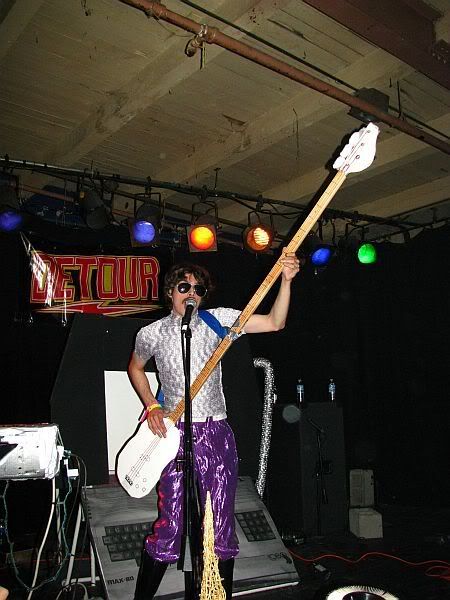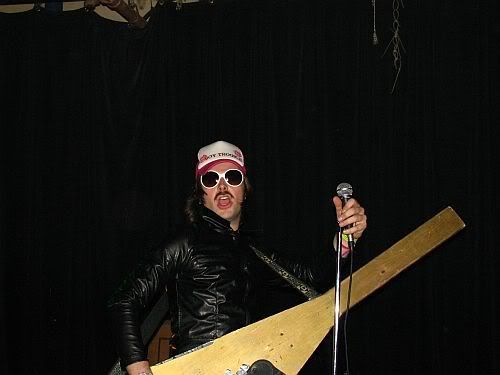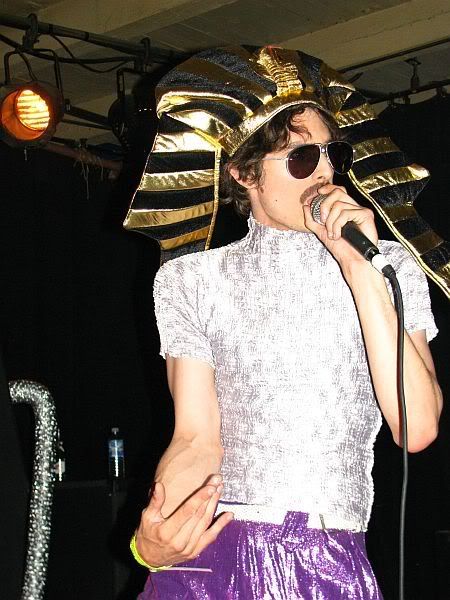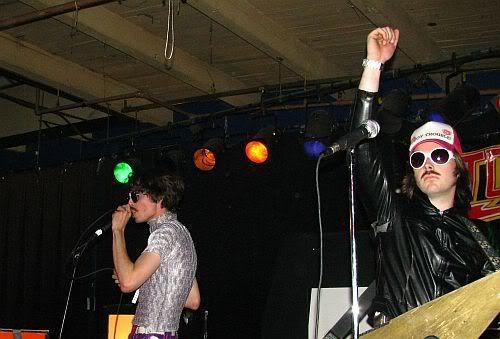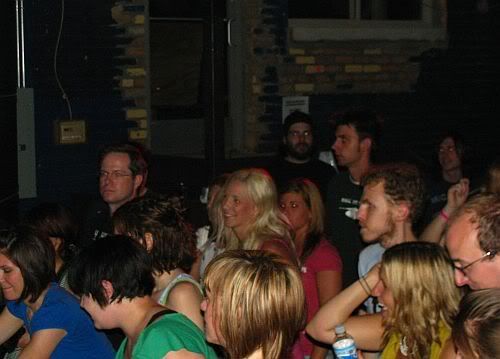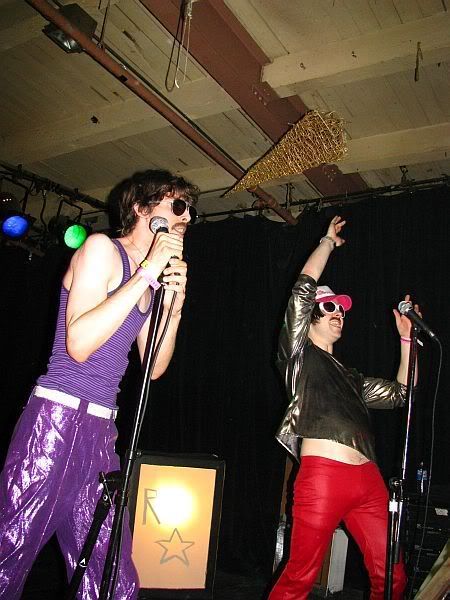 Whalebomb: After Champions I saw Wildcatting. Fantastic. I usually don't get into bands that just play and have no vocals. And that's usually because there is no melody to follow along with to guide me. However, Wildcatting has melodies. And they make me happy. Although sometimes I imagine myself picking up a mic and freestyle singing to their playing, I hold back 'cause they don't really need it. Their music makes me happy. Oh, and they're also another "rock" band.
Whalebomb: And so is SSM, who I did not see last night due to catching a bit of Darhma and Greg. I mean Will and Grace. No, that's Matt and Kim. They were good. But I'm old and I was tired at this point. So I'm sure other people will have better write-ups about them. So I ended the night with a slice of pizza and all was well.
Scotter: Matt and Kim are spaz. They'd have to be in order to put on such an energized performance. I saw the two of them throughout the festival, checking out bands and seemingly thoroughly enjoying themselves, which Matt admitted on-stage, glorying in the Rock City Fest–their first visit to Detroit–and thanking the crowd for "popping my Detroit cherry," a cherry which he mentioned a couple more times as being "sooooo popped." They played a tight set and continually gave each other looks like they were surprised at how good a band they are. I've never seen two people sitting down so sweaty.
Matt and Kim turned out to be a great way to end Thursday at Rock City–on a positive note. They were visibly pleased and happy, as should every person who made it out to the Majestic to enjoy this great event. I cannot wait for tonight!
Rock City Fest Day 2, come hither.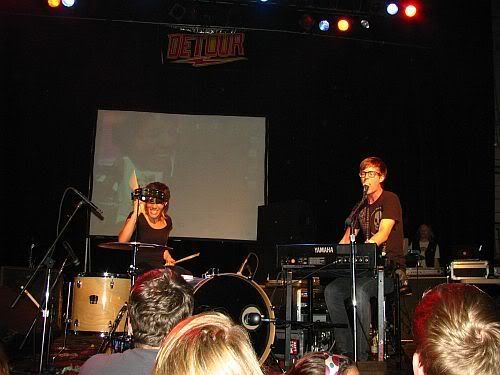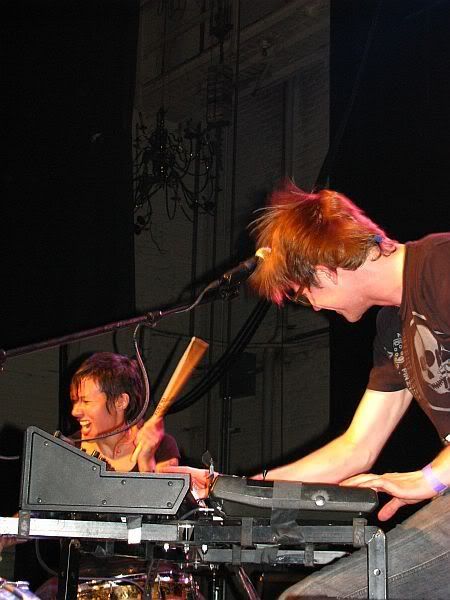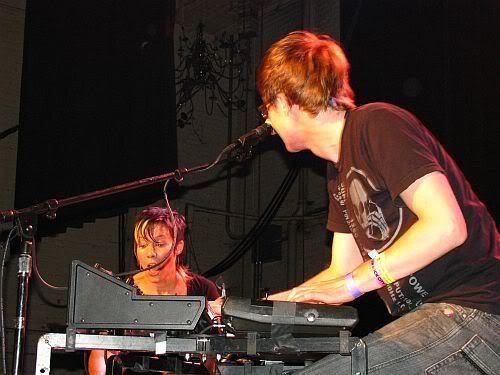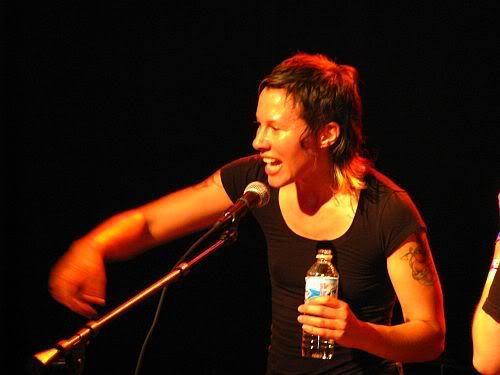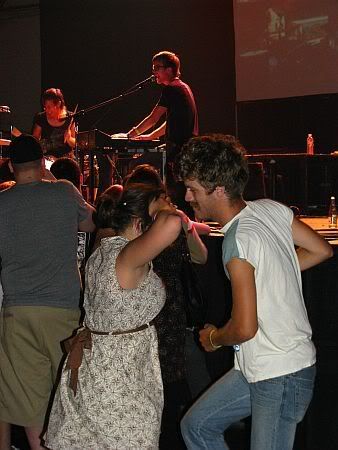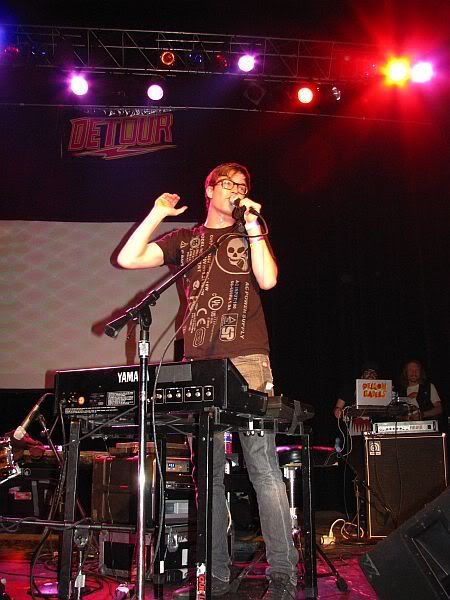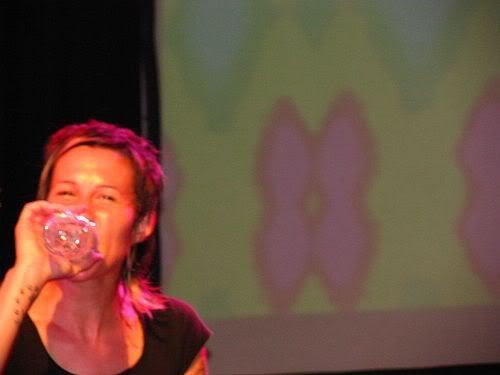 P.S. I know I already offered recommendations, but may I add for tonight Blasé Splee. Their EP, released last year, is fantawesombulous.