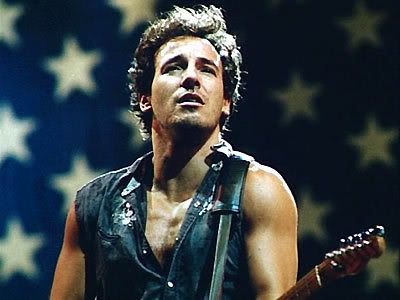 I'm going to see Bruce Springsteen & The E Street Band tomorrow night, and I haven't been this excited for something since that time when I got an official Red Ryder, carbine action, two-hundred shot range model air rifle for Christmas a few years back. That's right, the Boss is coming to St. Louis to anthemically rock out the very un-rock & roll Scottrade Center, and I've got tickets. Tickets that I paid nearly $70 for and which will still seat me way up the nosebleed section, but tickets nonetheless.
In anticipation I've been listening to tons of old Bruce records, everything from Greetings From Asbury Park (1973) through Born in the U.S.A. (1984), and picking things back up again with The Seeger Sessions (2006) and Magic (2007). I don't have any records in between, so as far as I know he just took 22 years off to focus on his cameo on High Fidelity and play some shows for that John Kerry guy. So, hoping that he plays nothing but material that I'm intimately familiar with, I've compiled some outstanding past performances the Boss and co. have put on through the years and around the world. One, two, three, four!
Counting with Bruce Springsteen

"It's Hard To Be a Saint in the City"

London, 1975

"Streets on Fire"

Passaic, NJ 1978
"Rosalita (Come Out Tonight)" – embedding disabled beyond all comprehension. Watch it. It's seriously one of the greatest performances ever caught on tape. Phoenix, 1978.
"Backstreets"

Toronto, 1984
"Glory Days"

Paris, 1985
"Thunder Road"

Red Bank, NJ (VH1 Storytellers) 2005
"O Mary Don't You Weep"

Belfast, 2006