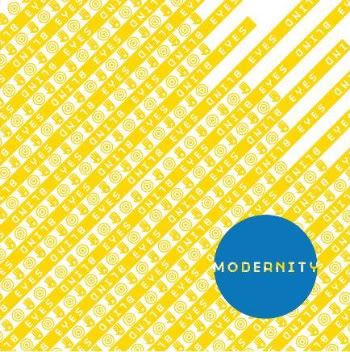 The Blind Eyes – "January"
(from Modernity)
Audio clip: Adobe Flash Player (version 9 or above) is required to play this audio clip. Download the latest version here. You also need to have JavaScript enabled in your browser.
At first, whenever anyone talked about the Blind Eyes, myself included, it seemed inevitable that someone would group the St. Louisans alongside the neatly-tailored English pop of the Jam and Elvis Costello, or occasionally next to the slightly more rambunctious Thin Lizzy of Ireland. But for all the mod aspirations implied by the title of their debut album, Modernity, there's not a hint of dandyism or faux-Union Jack banner waving insincerity.* Instead, we get an even dozen of crisp, catchy-as-all-hell pop songs that may nod their cap at the legends of the past, but keep moving forward in a brisk strut.
I was at the album release party for Modernity this past Friday at the Firebird, and it was great to see such a wide turnout for a local band of their size. It was a mixed crowd of bar scene regulars, reporters, and casual music fans who made the commute to downtown for the evening. A few people mentioned to me that it was exactly what this city needs more of: a full bar on a Friday night filled with curious listeners and fantastic bands. (Note to self: bring more cash in hand next time the ACBs from Kansas City are in town.) But I think the turnout really speaks to the Blind Eyes' crossover potential: they're familiar without being reductive, fun without being sappy, edgy without being difficult.
On record, I was struck by how much the Blind Eyes sound like the early Strokes; the main difference being that, unlike Julian Casablancas, lead singer/guitarist Seth Porter actually has a decent set of pipes on him. On the playful and punchy album opener "January," he sings as nonchalantly as a Vegas crooner who's found his sweet spot: "The end of the world may be coming soon, but it's hard to care on a sunny afternoon when you've got tailpipes spewin', doom and gloomin', you hear a rap-tap-tat-tat-a-tat on your door!" Porter's songs are melodic and full of character details, like short stories that come to life with the cynical big city noir of "High Life" or the coy interior monologue of "Pages."
The Blind Eyes – "Find the Time"
Audio clip: Adobe Flash Player (version 9 or above) is required to play this audio clip. Download the latest version here. You also need to have JavaScript enabled in your browser.
But if Porter gleams on the polish, Kevin Schneider's turns on the microphone are scruffier and more urgent. On "Find the Time," one of the album's highlights, Schneider inhabits the spirit of kindred bassist/vocalist Phil Lynott, too reckless and brash to let the good times slip through his fingers. The constant back-and-forth between the spiky-smooth contrast of Schneider and Porter keeps things interesting throughout. (Although, to be even-handed, I should point out that Schneider's punkish "Forget About Everything" does seem to drag on for one jazzy interlude and chorus refrain too long.)
Between the prominent bass leads, bright rhythm guitar glint, and Matt Picker's effortlessly bouncy drumming, it's hard to believe the Blind Eyes are only a trio. There are so many smart hooks and clever quips that the packaging almost seems too modest. If they returned on their sophomore album with a keyboard, a second guitar, and a brass section I wouldn't even bat an eye.

The Blind Eyes on Lo-Fi St. Louis (they start around the 2:00 minute mark)
*I'll forgive them the blatant Abbey Road aping on their recent appearance on the front cover of the RFT, but only because they pulled it off so well.